Franklin Harry, DPM, ABMSP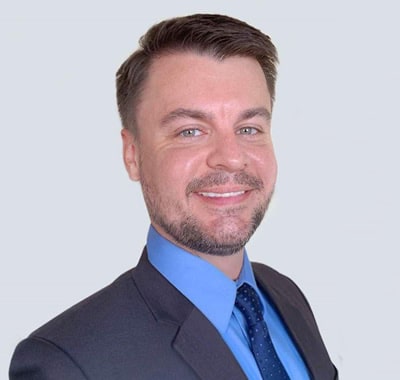 Franklin Harry, DPM
Dr. Franklin W. Harry is founder of Best Foot Forward, with his first office located in Festus, MO. He completed fellowship training in diabetic wound care and foot and ankle surgery. He is both a member of the American Association of Podiatric Practice Management and is a board certified podiatrist by the American Board of Multiple Specialties in Podiatry
When he is not treating patients, Dr. Harry enjoys spending time with his wife. The couple love being with their dog, Bentley, as well as cooking, hiking, scuba diving, watching sports, and trying out new restaurants. They also volunteer locally in homeless shelters in the St. Louis area, and with medical mission programs in Guatemala and Haiti. This is part of Dr. Harry's mission to give back, by helping people in his own community and around the globe.
Paul Wilson, DPM
Paul Wilson, DPM
Dr. Wilson completed his undergraduate work at Missouri State University in Springfield, Missouri, with a B.S. in Cell and Molecular Biology. He earned a Doctor Podiatric Medicine degree from Des Moines University Osteopathic Medical Center in Des Moines, Iowa. Dr. Wilson completed a surgical residency at Truman Medical Center in Kansas City, Missouri.
He completed rotations in general surgery, vascular surgery, plastic surgery, foot and ankle surgery, and internal medicine.
He is board certified in Podiatric Medicine and a member of the Pi Delta National Honor Society.
Jeff Carnett, DPM
Jeff Carnett, DPM
Dr. Jeffrey Carnett earned his Doctor of Podiatric Medicine degree from Des Moines University, Des Moines, Iowa in 1987. He completed his surgical residency training also in Des Moines and stayed on as an Assistant Professor of Podiatric Medicine. In 1993 he returned to his home town of Hilo, Hawaii where he developed a specialty in managing diabetic foot disorders while in Hawaii. In 1995 Dr. Carnett took on the challenge to be the first podiatric physician and surgeon in Hong Kong, China. He was instrumental in establishing the first High Risk Foot clinic in the territory. Dr. Carnett has also worked in Australia and New Zealand establishing and managing foot clinics. Dr. Carnett is fluent in Cantonese and Mandarin Chinese languages in addition to English.
Aside from his training in podiatry, Dr. Carnett earned a Master of Fine Arts degree in Creative Writing in 2015 from The Institute of American Indian Arts in Santa Fe, NM. He has authored a novel and is always working on various writing projects. Dr. Carnett, his wife and children enjoy travelling, swimming and taking in all they can outdoors. This International family looks forward to settling down in and serving the local community.